Fami - an eminent soy milk brand in Vietnam - has probably been engraved into our minds after the remarkable "Home is where…" campaign 5 years ago. During June this year, Huynh Lap's "O Family" MV has reminisced on this "tagline", triggering a long-lost memory of the 10x generation.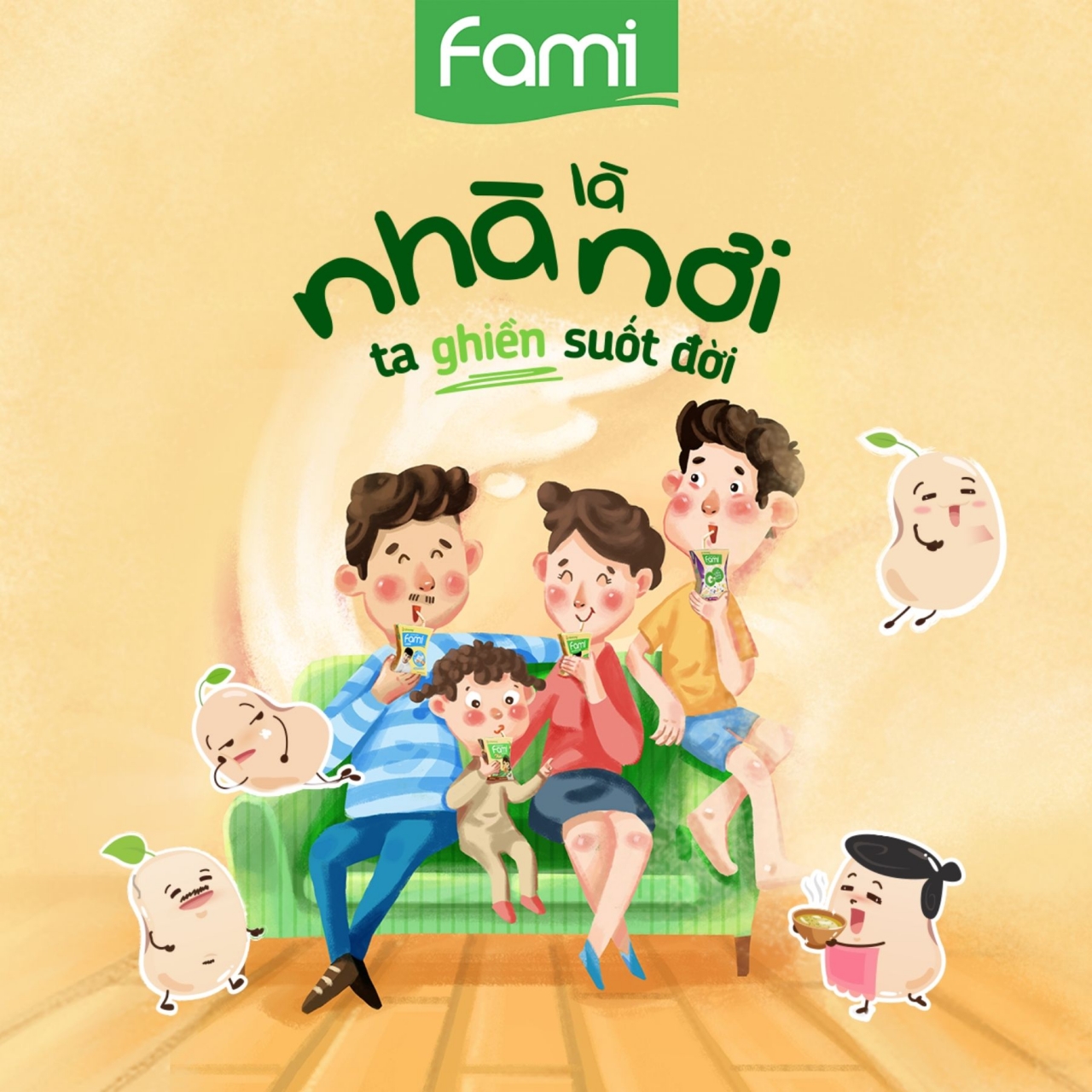 (Source: Fami)
"Home" is not entirely defined by the word "family", home is defined by the security blanket you get through the happiness, appreciation, and the warmest people who would extend their hands to welcome you.
Being made aware of the significance of "home", Fami has incorporated this valuable message into their campaign as a central theme simultaneously with conveying a similarity in beliefs: soy milk will help evoke the mellow taste of home and the nutrients to prolong the joy of family.
WHERE HAS THE BRAND "VINASOY" GONE TO ON THE 'HOME IS WHERE…." TRIP?
Though the campaign was initiated in 2015, the impact is still noticeable. Fami was very sensible in the sense that the campaign catered to a wide spectrum of ages. By utilizing entertainers and artists like Mỹ Linh, Hoàng Bách, Cẩm Ly to attract audience members in the 40s or above, influential 8x and 9x faces like Isaac, FAPtv Cơm Nguội for audience members from 20 - 35 years old, and YouTubers - creative content creators - for children, Vinasoy was able to attract a lot of audience members.
(Source: MV "Nha la noi" - Truc Nhan, 2018)
Media plans and advertising has contributed to extending the influence of the campaign throughout the market, the brand does not only invest in advertisements but also invest in their personal musical work. Compared to Generali's "Live To One's Liking" campaign, Vinasoy Fami's "Home is Where" is in favor of a fixated melody and video style, with the only change being the singers.
WHEN "HOME IS WHERE…" ENCOUNTERS A BUMP
Evaluated as a meaningful, impactful, and intentional campaign, Vinasoy Fami still have to face their own obstacles until this very day. More specifically, the media and news editorials reported that the health complications caused by soy milk, especially for boys since it could lead to infertility, is detrimental, and its negative effect on our digestive system and our bowel if consumed incorrectly.
Some of the limitations in soy are forming a formidable obstacle for the business and industry. Although the campaign enables audience members to draw out distinctive meaningful messages, the numbers and results up until now are still on a declining trajectory. Revenue and profits have constantly plummeted.
Despite its familiarity, Fami has to face a lot of difficulty in stabilizing its revenue. Recently, VInasoy records a rapid decline from the early months of 2020 to now, the situation has not been improved.
THE REMEDY
In order to overcome the situation, Vinasoy has taken creative and lissome strides in their media plans while maintaining the central theme of their campaign by incorporating new formats.
First, they changed the format of the campaign into a musical film named "Lang Lieu Hau Truyen", which was published in late 2019 to celebrate Tet 2020. 2019 has marked an immense success for the reality show adaptation "Chay đi cho chi", which gave way to many trending faces on social media like Ninh Duong Lan Ngoc, Truong The Vinh, Liem Binh Phat,... Vinasoy adroitly and quickly jumped on the trend and invited these faces to participate in their campaign. As expected, the MV saw a significant increase in unique viewership, especially from avid fans of the show, recording close to 3 million views - a remarkable number.
Additionally, Vinasoy utilizes "sponsored advertising" - a method where they could reach not only a variety of audience members but a significant number of audience members.
But what is sponsored advertising? Its methods and principle of operation? API will delve deep into this method in our upcoming posts so don't forget to follow API to learn more!
See the full post via this link.
---
Credits for API's Team:
Content: (in Vietnamese) Thanh Vy.
Translation: (in English) Anh Khoa
Cover photo: Tri Dung, Van Thanh, Truong Ngoc.
---
For any concern, please contact:
Email: theapitales.contact@gmail.com
Page: https://www.facebook.com/theapitales
Hotline: (+84)938327709 (Van Thanh Mr.)
(+84)702440636 (Giang Dang Ms.)
----
References:
Anh, T. (2020, May 11). Lợi nhuận công ty bán sữa đậu nành Fami giảm mạnh. Retrieved December 07, 2020, from https://theleader.vn/loi-nhuan-cong-ty-ban-sua-dau-nanh-fami-giam-manh-1589181015354.htm
Lợi nhuận chủ quản thương hiệu sữa Fami tiếp tục giảm 19% trong quý 3/2020, luỹ kế 9 tháng đạt 721 tỷ đồng. (2020, October 30). Retrieved December 07, 2020, from https://www.tin247.com/loi-nhuan-chu-quan-thuong-hieu-sua...