"TikTok" is no stranger to young fellows these days - especially when its user community expands its popularity into a plethora of age groups and gender. Foreseeing the prospect of robust development, many brands have taken advantage of this opportunity to utilize TikTok as a tool to promote their product recognition. So, what makes this video-sharing platform so fascinating?
WHAT DO YOU KNOW ABOUT TIKTOK?
Under the initial name of "Douyin", the app was launched in September 2016 by ByteDance - a Chinese tech enterprise. This short-form video platform became incredibly popular among Chinese younger cohorts. After gaining momentum in its home country, Douyin reached the global market with the name we-all-know-today - "TikTok".
Regardless of its late arrival, TikTok.does not pale in comparison to other social media giants like Facebook or Instagram. According to Business of Apps, each user will spend about 52 minutes on TikTok, 58.5 minutes on Facebook, and 53 minutes on Instagram on a daily basis. Currently, there are more than 800 million monthly users worldwide. Instagram and Facebook, took 6 and 4 years to achieve this enormous milestone, respectively. Needless to say, TikTok is indeed a formidable rivalry in the social media landscape.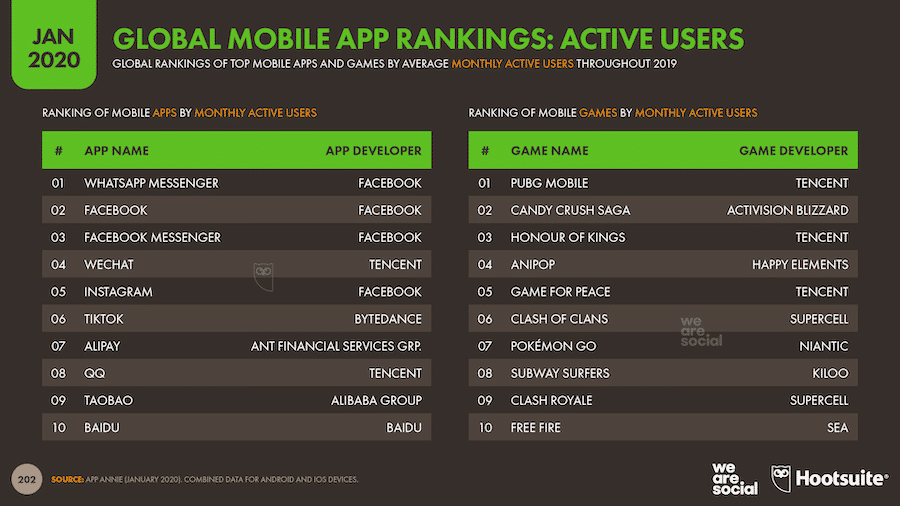 (Source: Digital 2020)
IS TIKTOK BECOMING COMMERCIALIZED?
In the past, TikTok consisted of purely entertainment videos, dance challenges, and lip-sync performances. Nowadays, the platform is flooded with indirect promotional videos. Specifically, through this "indirect" execution, brands do not directly advertise their products to users. Instead, they collaborated with KOLs and micro-influencers to do the marketing part. There are 5 ways to advertise via TikTok:
1) In-feed video: skippable video ads
2) Brand Takeover: 5 seconds of branded content that appears when users open the app
3) Hashtag challenge: fosters significant impacts and virality
4) Branded Lenses: works similarly to Snapchat filters, Instagram Stories, and Facebook photo frames
5) Product Placement: incorporates the brand's product into KOLs' content.
(Source: Viettel)
The most common and explosive form of all is the Hashtag challenge. One of the most notable pioneers for TikTok marketing campaigns is Viettel - when it became viral by recruiting Bich Phuong and Quang Hai to promote the #Viettelcongcong hashtag. With these two prominent KOLs, in addition to simple and replicable dance moves - Viettel has garnered 38 million views and 5 million engagement in the first six-day of the campaign's launch. Ultimately, this has helped #Viettelcongcong to dominate as the most successful marketing campaign on TikTok.
Moreover, TikTok is also a potent assistant for fashion and cosmetic businesses. "A picture is worth a thousand words" - Maybelline New York used TikTok as a stepping stone to boost the brand's influence and widespread the "beatboxing x dancing on Maybelline New York background music" challenge. Through the participation of more than 100 TikTokers, #sonnhebeatbox has collected more than 33.8 million views.
THE KING AND HIS HINDRANCE
In mid-2020, the backlash to "Delete TikTok now" spread like wildfire amidst the soaring boom of this platform. According to the Anonymous hacktivist group, TikTok secretly collected valuable data from users' mobile devices - ranging from their geolocations to personal information. Furthermore, in the same year, TikTok was allegedly concealing its exploitation of users' private information by encrypting data. When gathering a staggering amount of users - we're talking about millions to tens of millions - the app is able to collect huge data volume from people in any given region, or even a country. What a tough year for TikTok, right?
CAN TIKTOK KEEP ITS THRONE?
It is undoubtedly an unpredictable matter. However, on June 29, the Indian government issued a ban on Tiktok along with 58 other applications due to "prejudicial risks that undermine the sovereignty, integrity, defense, and security of the state and public order". Last year, the US Federal Trade Commission (FTC) imposed a $5.7 million fine on TikTok for illegally collecting personal information from minors under 13 years old.
CONCLUSION
TikTok is indeed an ideal shortcut for brands to reach their consumers faster than ever, with a relatively low input budget. However, aside from peak views and interactions, such a fast-paced video consuming market is still a questionable matter regarding adequate effects on sales. Can these seemingly mouth-watering metrics guarantee actual brand performance?
Hence, if users decided to "cope" or numb their senses with ad banners (banner blindness), even if the brand gets 1000 views, it is not certain that the actual number of buyers will even reach 10%. On the other hand, when the app/platform became involved with notorious scandals, TikTok turned into a risky move for businesses in the time to come.
>> "Stay tuned" because API will make a comeback every week with tons of useful articles
See more of this post via this link.
---
Credits for API's Team:
Content: (in Vietnamese) Khanh Vy.
Translation: (in English) Bao Ngoc.
Cover photo: Nam Phuong.
---
For any concern, please contact:
Email: theapitales.contact@gmail.com
Page: https://www.facebook.com/theapitales
Hotline: (+84)938327709 (Van Thanh Mr.)
(+84)702440636 (Giang Dang Ms.)
----
Reference:
Nhìn về chiến dịch Viettel Cộng Cộng: Bùng nổ lượt view nhờ nền tảng Tik Tok. (2019, July 16). Retrieved December 27, 2020, from https://marketingai.admicro.vn/nhin-ve-chien-dich.../
NHỮNG CAMPAIGN THÀNH CÔNG TRÊN TIKTOK. (2019, December 19). Retrieved December 27, 2020, from https://minet.asia/vi/nhung-camp-thanh-cong-tren-tiktok/
Brands Vietnam. (n.d.). Những chiến dịch tạo dấu ấn trên Tiktok. Retrieved December 27, 2020, from https://www.brandsvietnam.com/19405-Nhung-chien-dich-tao...
Nghi án Tiktok xâm phạm nghiêm trọng thông tin người dùng. (n.d.). Retrieved December 27, 2020, from https://www.google.com.vn/.../nghi-an-tiktok-xam-pham...