Nowadays, advertising drama is no longer strange to every marketing campaign for most businesses. And the conflict between 2 giants in the barley milk products industry, namely Milo and Ovaltine aka Nestle Milo and FrieslandCampina, was the most famous story ever.
Before breaking the escalating tension down by elements, shall we take a look at each campaign to have some insight?
MILO | THE GAME STARTER
For any campaign, whether big or small, the untold message is the most important element to touch the heart of every audience. And Milo is the most prominent example of achieving this vital principle. In 2016, Milo's video "The Real Champion'' was released on social media, marking the beginning of Milo's Dynamic Vietnam Program - a meaningful program that encouraged Vietnamese people to embrace a more active lifestyle.
Launching TVC - "The real champion"- was a very smart move of Milo to better promote their campaign. And, as a result, the campaign gained tremendous attention from the public, especially from Vietnamese moms. Milo continued to reach a wider community through the voice of many famous KOLs such as director Luc Tran with the story "Bom does Math and plays football."
THE OUTCOME
After launching, Milo's campaign reached 19 million views and attracted more than 3 million kids to participate in sports activities of the Dynamic Vietnamese Program. Furthermore, about 180 thousand parents also promised to join Nestle Milo in developing a healthier and more active lifestyle for the future generation.
And of course, Milo was very lucrative when its powder product brought back a spectacular sales growth, up to 22% of the initial target after the campaign ended. The campaign's success even went beyond Vietnam's border. It helped Nestle surpass 600 excellent campaigns in the Asian Pacific and become the first Vietnamese Food and Beverage business ever to be nominated in the Effie Award 2018 (one of the most prestigious awards in the marketing field.)
OVALTINE - THE DRAMA STARTER BECOMING THE MAIN CHARACTER
Many believed that after witnessing the consecutive successes of its forever rival, Ovaltine would have released a very ordinary campaign. However, we were totally wrong.
Ovaltine kicked off a media campaign with a signature slogan "No need to win, as long as you enjoy it" like a direct slap to the face of its opponent. Ovaltine's message was the complete opposite of Milo's previous statement: "The champion made by Milo."
Without a second thought, Ovaltine even used Milo's theme color (green) and arranged a total attack on both digital platforms and media publications. In particular, the most significant event was the two posters of two brands being displayed together at an intersection in District 3, HCMC.
(Source: Internet)
Whereas Milo emphasized their "Champion" slogan, Ovaltine scored a different message: "Winning is not important as long as children can fully enjoy the happiness of doing whatever they like."
SHOWING NO RESPECT - WHAT DID OVALTINE GAIN FROM THIS CAMPAIGN?
It was very fascinating to see how well Ovaltine's coverage expanded after the campaign ended. Just within 20 days after first released, the album "No need to win, as long as you enjoy it" reached more than 60000 likes and 5000 shares. Moreover, it also became the hottest discussion on many online newspapers and social media with mixed opinions. Even though Ovaltine did not fully disclose its total revenue, the campaign was still a wise move of Ovaltine to forewarn its opponents and save some market shares.
(Source: Facebook Ovaltine)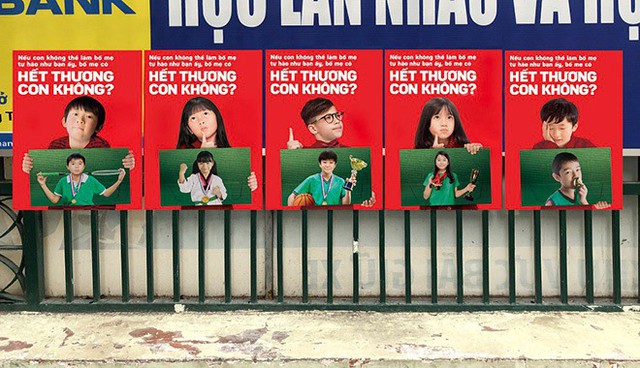 (Source: cafebiz.vn)
THE COUNTERATTACK OF THE GREEN TEAM
Despite not being personally named by Ovaltine in any media publication, Milo couldn't give in without a fight. That's why Milo decided to return Ovaltine a painful favor by filing a legal complaint to the Department of Culture, Ministry of Culture, Sports and Tourism and Vietnam Competition and Consumer Authority, Ministry of Industry and Trade. In the complaint, Milo demanded the authority to properly handle the unfair competition case of Ovaltine. They believed that Ovaltine's advertising strategies had violated the Law of Vietnam and directly caused Milo many damages.
However…. perhaps Milo was wrong when most lawyers and field experts had a different opinion on the case. Ovaltine's advertising campaign just simply offered a symmetrical or comparable slogan, not "a similar message or a product with many common points." Therefore, according to the Law of Competition, this was not an anti-competitive practice.
"Ovaltine's message was a pure product of creativity based on media aspect with no intention of offending, defaming, or falsifying Milo's products," said Lawyer Truong Minh Le.
(Ovaltine's campaign)
THE AFTERMATH
Even though it is common for conflicts to arise between companies in the same field, they normally are implied subtly through one or two media publications. Rarely does any company attack its opponent hard and straight, both online and offline, and create successful advertising campaigns like Milo and Ovaltine. This event proves a fact that some businesses are still taking tough and hard-to-chew moves to trouble their rivals while abiding by the law.
It's undeniable that Ovaltine was in a better position as a latecomer, taking advantage of all available resources to turn the table. However, one tough media campaign was not enough to dethrone Milo. For more than 20 years, Milo has always provided its customers with the best products and services, way earlier than its "dearest mate" Ovaltine, who has just recently woken up from its trite coma.
"What goes around, comes around."
This notable drama helped Milo's brand awareness increase significantly, especially in the unstoppable discussion on every social media platform.
What a blessing in disguise! Milo was very wise to keep working on improving product quality, releasing better promotion campaigns,... instead of focusing too much on the media where mixed opinion is a norm. What matters the most is not who is more popular, but how much profits and market share one company could obtain. Particularly, in 2018, according to Nielsen's report, Milo owned the most market share, accounting for 60.4% of total capacity, ten times more than its "rival" Ovaltine with only 5.9% of capital, decreasing by 0.6% compared to last year's same period.
See more of this post via this link.
---
Credits for API's Team:
Content: (in Vietnamese) Phuong Linh.
Editor: (in Vietnamese) Van Thanh.
Translation: (in English) Thanh Hai.
Cover photo: Viet Huy.
---
For any concern, please contact:
Email: theapitales.contact@gmail.com
Page: https://www.facebook.com/theapitales
Hotline: (+84)938327709 (Van Thanh Mr.)
(+84)702440636 (Giang Dang Ms.)
----
Reference:
Nhà vô địch dưới mỗi mái nhà. (2020, April 27). Retrieved January 03, 2021, from https://www.nestlemilo.com.vn/nha-vo-dich-duoi-moi-mai-nha
La, C. (2018, September 26). Đại chiến quảng cáo Milo-Ovaltine: Ai là 'nhà vô địch'? Retrieved January 03, 2021, from https://vietnamfinance.vn/dai-chien-quang-cao-milo-ovaltine-ai-la-nha-vo-dich-20180504224213455.htm
Brands Vietnam. (n.d.). Đại chiến truyền thông giữa Milo - Ovaltine: Gay cấn ngay từ hiệp đầu! Retrieved January 03, 2021, from https://www.brandsvietnam.com/16609-Dai-chien-truyen-thong-giua-Milo-Ovaltine-Gay-can-ngay-tu-hiep-dau
---
For more information:
https://tgslaw.vn/nhan-dinh-cua-luat-su-ve-vu-viec-tranh-chap-giua-milo-va-ovaltine.html